Get an insight into the two major areas of my work: Illusion painting and restauration
Illusion painting
First, a preliminary talk takes place – always on site. I get to know the clients, their style, taste, interior and desires of course.
The first draft is based on the impressions I received due to the ideas of my clients.
A design meeting is held on site. The clients are inspired by my concept and can thus express their own ideas in concrete terms.
The final draft is then created, which however is not set in stone; we allow ourselves to redesign constantly, to add a part or to simply leave something out. A basis of trust is created.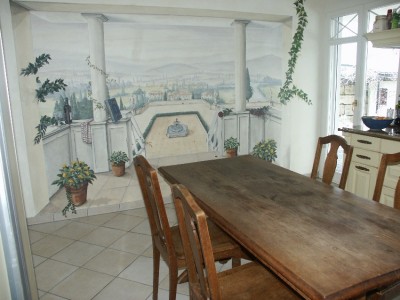 Example mural
In the following the placement of an order is described in more detail using the illusion painting shown above:
The displayed illusion painting is located in a kitchen. The desire was to create an expansion effect (?); the kitchen is a place where the whole family spends time.
The landscape was chosen to highlight the southern warmth, that radiates throughout the house.
I designed this mural to be very discreet and airy to match the furnishing of the whole house.
It is not a painting on the wall, but a part of the whole, fully integrated with the rest of the house.
I brought in architectural elements such as columns or railings, that are already present in the house, as well as the existing tiles.
Every detail has a real reference; for example the wine bottle, that I discover in the kitchen while painting or the book, on the spine of which you can see the year of construction of the house etc.